Jace

Characteristics

Race

Human

Gender

Male

Age

29 (As of chapter 3)

Height

183 cm

Birthday

August 19 (Leo)

Hair Color

Blonde

Eye Color

Blue

Personal Status

Status

Alive

Family

Diego (Brother)

Abilities

Weapons

Sword
Jace is one of the main protagonists of Ascension. First appearing in Chapter 1, he becomes a member of Aida's team. Jace was a member of the Knight Order before its destruction and later attempts to rebuild it. He is also one of Aida's possible love interests.
Appearance
Edit
Jace has the appearance of a fit young man, with light blonde hair and blue eyes. He has a tattoo on his left shoulder and a vertical scar over his left eye.
Chapter 1Edit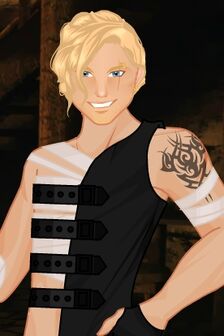 In chapter 1, Jace has long wavy bangs that reach his chin on the left side of his head, and the right side is short. He has a stubble and an eyebrow piercing. His clothing in chapter 1 appears more as a bandages, with a black half vest that covers the left side of his body, and has straps on the left, that presumably go all the way around. He has black pants, with a sword on his back. 
Chapter 2Edit
In Chapter 2, Jace wears a plain white tanktop with a piece of silver armor on his left shoulder and plain brown pants. The player can choose from three hair options: the "Original" style, which is the same as in Chapter 1; the "Knightly" style, which is a shorter style with a quiff; and a long wavy style that comes down to the jawline called "Warrior."
Chapter 3
Jace wears a knight white top and his same silver armor on his shoulder, he still has short hair option in Chapter 2 and three new hairstyles such as a small low ponytail with bangs, his wavy neck length hair with side bangs and two little braids, or a wavy hairstyle that exposes his forehead.
Personality
Edit
Jace's personality seems to be laid back. He is quite the ladies' man and tends to have a flirty side to him. Jace also tends to like his ale.
As the game progresses Jace becomes caring and loyal with Aida while retaining his humorous temper. He also starts to fortify the knight order again by taking in orphans and teaching them to fight (even calling them "whelps" and having strict punishments for them, it's shown that Jace cares about the "whelps" deeply).
When Jace was part of the Knight Order, his group had received an anonymous tip, that turned out to be a sham, and the entire Knight Order--excluding Jace--was killed. Jace believes that his partner, Cain, died by an arrow to the head. However, in Chapter 1 he learns that Cain was actually a pseudonym for Diego, who infiltrated the Knight Order to help take them down. In reality, Jace was slipped a hallucinatory potion that caused him to "see" his partner Cain die.
Chapter 1
Aida meets Jace in the Wandering Tree tavern in Northcliff, where Jace is trying to get free drinks from Delvin (the tavern keeper). Jace tries to get Aida to help him lie, (if you choose good trait) but Aida refuses to assist his plot or (if cunning trait) she says he is an idiot and insults him so he leaves the bar angry with her (refer the quote 6th).
Jace runs into Aida again in front of the Fragile Falcon's Inn, when Eagles thugs come to take Aida and the two fight them off. Tillie coerces Jace to stay in the tavern in order to prevent him from ruining Aida's infiltration into the Eagles. In the tavern, Jace is immediately flirty with Aida. However, he is also very open about his past and talks about his experiences in the Knight Order with her.
Jace manages to make his way out of the Fragile Falcon's Inn, and finds Aida stealing documents for the Eagles to solidify her recruitment. He knocks her unconscious and takes the documents, because they are the only remaining evidence of the Eagle's involvement in the Knight Order's fall. Jace follows the Eagles to their hideout when they retrieve Aida's unconscious body, and confronts Diego. Jace learns the truth behind Diego's identity, and is thrown in a cell with Aida after having the documents confiscated.
Jace is freed when Zander and Tillie break Aida out of their cell, and tags along when the party regroups. Jace is seriously threatened by Zander for his transgression, and he apologizes to Aida for backstabbing her. If Aida has been flirting with Jace, he sets an ultimatum, requiring her to decide if she will be with him or not. If she accepts, the two kiss. Then, the entire party leaves for the Crimson River, where Diego is taking the journals.
At the river, they find a ruined castle serving as Diego's hideout. Jace enters with Aida and Zander and helps fight the guards. When the building begins to collapse, he escapes and meets Sky, Tillie, and Zander outside.
Chapter 2
In Chapter 2 he meets Aida in Ildis. He does not react as strongly as Aida's other friends, instead remaining with his casual self, unless he was picked as Aida's love interest during customization at the beginning of the chapter. In which case he lifts her bodily off the ground with an exclamation of joy.
Abilities
Edit
Due to him being in the Knight Order, he is very skilled in combat with a sword. It can also be assumed that he has a healthy tolerance of alcohol.
Relationships
Edit
Aida : Jace is one of Aida's love interests. He dislikes her after their first encounter in the Wandering Tree. However, they bond a little after fighting off a group of Eagles thugs in front of The Fragile Falcon's Inn, with Jace inviting her for drinks and Aida replying, "Maybe..." However, Aida is still unsure about him, even calling him a "drunken ass" in the inn. When Jace is flirting with Aida in the inn, saying a kiss would make him feel better, Aida retorts that punching him in the face would make her feel better. However, she is mostly joking, and has the option to flirt back in the conversation. Their relationship obviously takes a downward turn after Jace backstabs Aida, interfering in her plan to infiltrate the Eagles. Aida is furious with Jace, but forgives him somewhat after a heartfelt apology upon their escape. Jace has a tendency to flirt with Aida, and calls her "gorgeous" whether you choose him as a love interest or not.
Zander: In the first chapter, Zander and Jace don't get along. If Aida has been flirting with Zander, he feels very threatened by Jace and is distrusting of him. Zander is absolutely livid with Jace after he puts Aida in danger with Diego by stealing back the documents. Zander threatens Jace with serious harm if he backstabs Aida again, and Jace is justifiably terrified of the mage. In Chapter 2, the two grow closer. In chapter 3, they are good friends and Jace still annoys Zander but in a friendly way.
Tillie: In Chapter 1, Tillie feels very sorry for Jace because of his experiences in the Knight Order.
Jace loves chicken and fish, especially when they are prepared the Valondia way (cooked in clay cups).
The barkeeper Delvin reports that Jace is sometimes seen with "ladies of the night."[1]
In Chapter 1, Zander threatens to burn Jace on more than one occasion.
In Chapter 2, Jace is shown to have renewed the order by taking in orphans and teaching them to fight and protect as knights rather than becoming thugs or thieves
He gets sea sick when on a boat.
Whilst still in the order, he used to call Diego "bubba."
Jace really likes daisies.
Jace enjoys giving nicknames to others. Most notably Skirts (Zander), Tears (Sky), and of course, Gorgeous for Aida. None of the characters to whom he has given nicknames like them.
He considered calling Faelern "Grandpa."
"Some how I feel I don't have a choice... Oh well! As long as I have my Ale!"[1]
"Need a little more practice before you can hit on a woman like her, whelp." -About Aida, to a young Knight-in-Training[2]
"Should've known it needed more than a famous criminal, collapsing tower and a necromancy ritual to kill you." -To Aida, if not chosen as a love interest[2]
"I'm going to be a father!!! Look my lady just walked in !!" -Jace, to Delvin "(whispers) Mind if you help here a bit, sweet cheeks?"- Jace, to Aida "Sweet cheeks?" -Aida "AHH! There you are you useless bum!" -Aida, if chosen cunning trait "Ye-WHAT?" -Jace "It is time you start acting like a responsible adult!!!" -Aida "I....uh...wh-?" -Jace "I'm not letting you see the baby if you keep drinking in Taverns and gamble away all our money!!!"-Aida "Whaa...i don't ev-"- Jace "I'm selling flowers all day long street by street while you sit and get drunk on ale!!" -Aida "I knew you were trouble but i never realised you were this low....Get out of my tavern!" - Delvin, to Jace
References
Edit