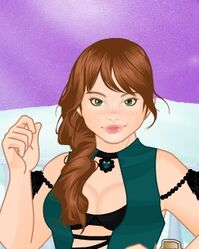 Dwarves are another race that are located in Arunia. Most dwarves end up becoming miners. According to Rin in the library of
Northcliff
, they are talented miners and warriors and are a "spirited bunch" that are always ready to celebrate. They are also a loyal ally to the human race. Generally dwarves are not known for their talent in the Arcane Arts, but there was once a powerful dwarf mage named Fodriac. Fodriac was the founder of the Salus Arcane Arts academy in Doregon, however the school was later closed due to lack of attendance. Doregon is the dwarven country which is located in the northern part of Arunia.
Dwarves all have dwarven names and last names -- sometimes a middle name like in Tillie's case (ex: Nergror Stormforged, Barirabela Longgrip,Darenworra Hornforge).
Ad blocker interference detected!
Wikia is a free-to-use site that makes money from advertising. We have a modified experience for viewers using ad blockers

Wikia is not accessible if you've made further modifications. Remove the custom ad blocker rule(s) and the page will load as expected.