Cal is a member of Aida's camp in Davenside.
Appearance
Edit
Cal is tall and very muscular. He has tattoos on both of his arms, and he appears to have shaved his hair.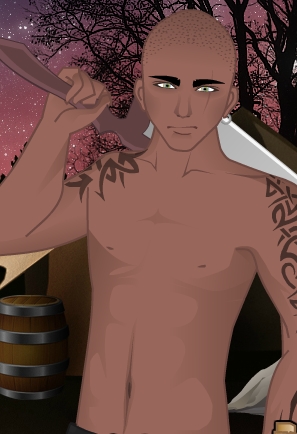 Personality
Edit
He seems kind of quiet.
It appears that he was a mercenary.
He can be spoken to once, and is later killed by The Eagles in the beginning of Chapter One.
Magic and Abilities
Edit
No magic, but he's a mercenary.
Relationships
Edit
Aida says she thinks Cal had a crush on Sky.
"Sky looks so sad ever since she found her mother's journals..." -To Aida[1]
Cal: "I am not fighting you again, Aida... You play dirty..." Aida: "I only bit you once..."[1]
Cite error: <ref> tags exist, but no <references/> tag was found
Ad blocker interference detected!
Wikia is a free-to-use site that makes money from advertising. We have a modified experience for viewers using ad blockers

Wikia is not accessible if you've made further modifications. Remove the custom ad blocker rule(s) and the page will load as expected.